Ryo's elderly next door neighbor, introduced in Fake 2nd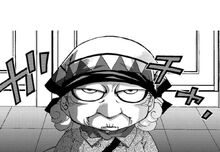 .  She looks after Bikky and does various chores for Ryo when he's working and/or Dee is unavailable.  Ryo likes her and appreciates the work she does for him.  He has also stated that she "notices a lot".
Melinda does not like Dee, and has told Ryo that he should get rid of him.  The feeling is mutual.